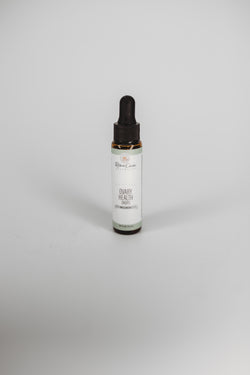 Ovary Health Drops | 10 ml
Our Ovary Health Drops were created in response to requests from customers for something to help with their ovarian issues. We formulated these natural drops to help women who experience PCOS and other female reproductive health challenges, to address the root cause and bring comfort to unwanted ovarian pain.

These drops are made with all-natural ingredients to support ovarian health. The goodness of organic avocado oil combined with carefully selected 100% pure therapeutic grade essential oils works together to balance hormone levels to support regular menstruation and may offer relief from painful or irregular periods.
TO USE: Rub 2–3 drops on inner wrists or lower abdomen 1–2 times daily.

INGREDIENTS:
ORGANIC AVOCADO OIL, 100% PURE THERAPEUTIC GRADE ESSENTIAL OILS: FRANKINCENSE, CLARY SAGE, YLANG YLANG, SPEARMINT, CINNAMON, GERANIUM, BERGAMOT, COPAIBA, SACRED FRANKINCENSE, CEDARWOOD, CAPRIC TRIGLYCERIDE, TOCOPHEROL, PEPPERMINT, USP-GRADE PROGESTERONE FROM WILD YAM EXTRACT, CLOVE.
⚠️
Please Note:
This blend may interfere with oral contraceptives, use caution, and consider additional birth control if you are not planning to get pregnant but are still able to do so.
*Always check with your doctor before using a new product or supplement if you have any questions or concerns about how a product may affect your current health, medications, pregnancy, or breastfeeding.