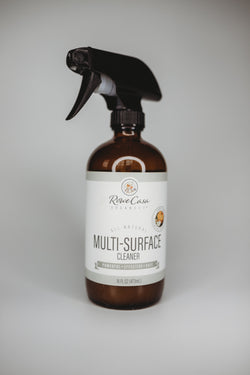 Multi-Surface Cleaner | 16 oz
This amazing all-purpose cleaner uses a powerful, germ-killing essential oil blend to keep your house clean without harmful chemicals found in most store-bought cleaners. Safe for most surfaces, but we always recommend spot testing to be sure. You'll love the way this cleaner leaves your house smelling! 

TO USE: Shake well. Spray on dirty surface and wipe clean. No rinse needed.

INGREDIENTS: DISTILLED WATER, HYDROGEN PEROXIDE, UNSCENTED CASTILE SOAP, COLLOIDAL SILVER, 100% PURE THERAPEUTIC GRADE ESSENTIAL OILS: CLOVE, LEMON, CINNAMON BARK, EUCALYPTUS, ROSEMARY, ORANGE, VANILLA.