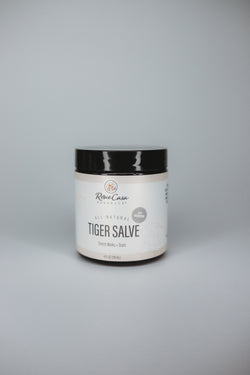 Tiger Salve | 4 oz
Stretch marks come in all shapes and sizes during various seasons of life. So whether your tiger stripes came during a high school growth spurt or your last pregnancy, you can experience the skin restorative properties found in our stretchmark cream today.
Our specially formulated Tiger Cream is not only helpful for diminishing the appearance of stretchmarks and scars but also preventing them as well. Bakuchiol is an antioxidant and anti-inflammatory oil that aids in skin regeneration, derived from bakuchiol seeds in India. Bakuchiol is safe to use during pregnancy or while breastfeeding.
TO USE: Apply daily as needed to lighten appearance of stretchmarks and scars. (Use caution in direct sunlight for up to 6 hours after application.)


INGREDIENTS: ORGANIC RAW & UNREFINED COCONUT OIL, RAW SHEA BUTTER, ORGANIC BEESWAX, ORGANIC COCOA BUTTER, ORGANIC CALENDULA OIL, ORGANIC BAKUCHIOL OIL, 100% PURE THERAPEUTIC GRADE ESSENTIAL OILS: FRANKINCENSE, GINGER.